Welcome to Taylor County School District
Over 3,100 students attend public schools in Taylor County. The district offers a comprehensive curriculum that meets the needs of all students. "Education - Priority 1," the district's slogan, reminds us that our primary responsibility is to provide a quality education that will enable each student to reach his or her potential. This website provides our district a unique opportunity to showcase the many outstanding schools and programs within our county. Please don't hesitate to contact us and let us know if we can be of assistance to you.
Superintendent's Letter about Reopening Schools
July 23, 2020
Community Members and Parents,
We have listened to both parents and staff and have heard concerns about the reopening of schools. We want to assure you that the safety and well being of everyone in our county is our number one priority. After meeting with TEA representatives, school-level administrators, district-level administrators, and watching the governor's press conference yesterday, I have decided to recommend that we extend our pre-planning and adjust the school start date for K-12 students to August 24. Pre-K will open for students on August 17. As of now, we will not be adding additional days to the school year. Teachers would report on July 30, as originally planned, and will have approximately three weeks of pre-planning to prepare for the 20-21 school year. Non-instructional employees will follow their normal calendar as well. This will not affect any employee's paycheck. We understand that this is a stressful time for everyone, and information is changing very rapidly. I want to assure you that everyone is working diligently to make this as smooth of a transition as possible. Please know that you all can reach out to me with any additional concerns.
Dr. Danny F. Glover, Jr.
Taylor County School District
Superintendent of Schools
850-838-2500 ex. 109


School Reopening Update: June 18, 2020
TCMS Good News and Summer Reading Tips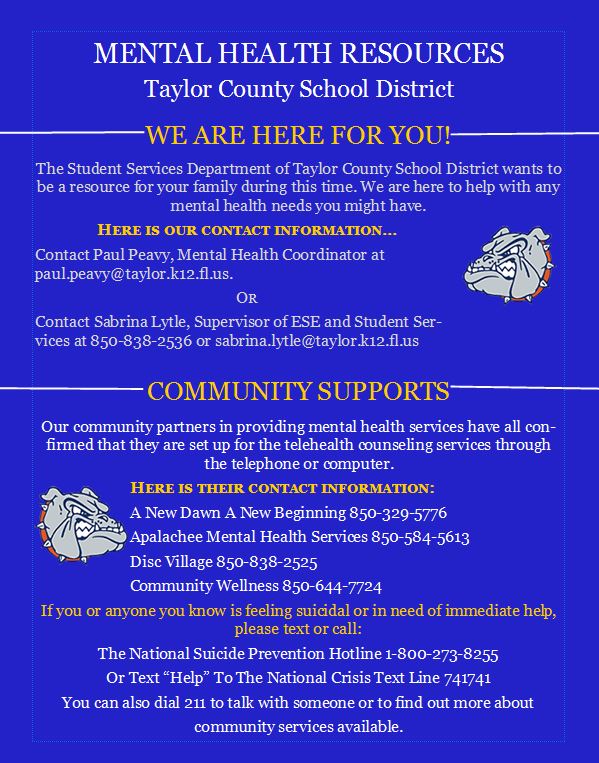 Taylor County is an Equal Opportunity Employer. We do not discriminate on the basis of race, color, religion, age, sex, national origin, marital status, disability, genetic information, sexual orientation, gender identity or expression, or any other reason prohibited by law.
Taylor County Schools is not responsible for the content provided on "related" and "promoted" videos that are accessible from our school media sites. These related videos and comments expressed on them do not reflect the opinions and position of Taylor County Schools or its employees.