Taylor County School Board Hosts Safety Training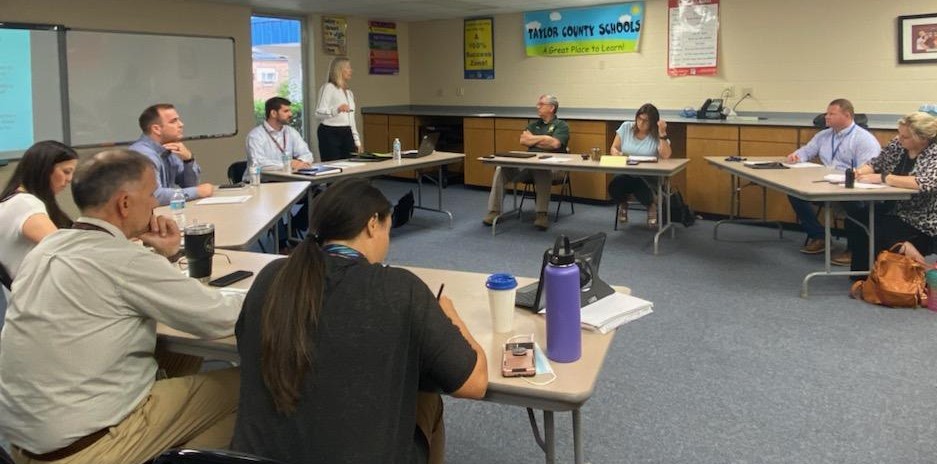 ---
On Thursday, April 15th Taylor County Schools invited Tracy Sampson, Program Specialist with the Office of Safe Schools in the Department of Education to come to Perry to review Taylor County Schools' protocols and assessments for school safety. The Comprehensive School Threat Guidelines (or CSTAG) by Dr. Dewey Cornell, Ph.D. is the comprehensive model adopted by the state of Florida to help detect and prevent school shootings. The side benefit is that can also bring out the need for services for students who might be struggling at home or school with a variety of problems.
The CSTAG is also called the Virginia Model because Dr. Cornell developed it while serving as a professor at the University of Virginia and it was adopted in Virginia after the Virginia Tech school campus shooting incident in 2007. The Virginia model seeks to investigate incidents and rank them as "Not a threat," "Transient," "Serious Substantive," and "Very Serious Substantive." The goal of any assessment is to keep every student safe. After the immediate safety of every student is accounted for each school has a safety team that can investigate different aspects of the threat by interviewing anyone with knowledge of the history and reviewing any records needed. After records are gathered and all interviews are completed the safety team meets to discuss recommendations to best help any students involved.
There are also monthly meetings of the school safety teams comprised of at least (but not limited to) an administrator, a school resource officer, a teacher, and a mental health specialist. The monthly meetings review previous incidents and how the students are being followed up with.
Ms. Sampson stated, "Threat assessment was adopted legislatively in the state of Florida in response to the Marjorie Stoneman Douglas incident. A strong multidisciplinary threat assessment team is recommended by the FBI, the United States Secret Service, and several state governments as an effective tool for violence prevention."
While the original School Safety Threat Assessment training was conducted with each team at the beginning of the 2019-20 school year for Taylor County Schools a refresher training was offered this Spring and many school safety team members attended the training. Ms. Sampson offered to come to any district to do a proactive deep dive into their school safety practices.
Taylor County School Safety Specialist, Chuck Mincy, stated "I was pleased to have DOE provide further direction for threat assessments and completing the CSTAG reports. As recommended by DOE, I've instructed all SRO's to begin coordinating with their principals to ensure monthly threat assessment and crisis management team meetings are scheduled and documented as required. "
Ms. Sampson summed up her workshop with Taylor County Schools this way, "Not only is it important to the threat assessment process to engage in training prior to implementing a school-based threat assessment team but continuing training and community understanding is key as well. Taylor County has proactively sought to deepen its practice by reviewing its current processes with state representatives. "